My first design inspiration as I thought about bubblegum was
the delicious pink color of bubblegum.
Of course, who could think about bubblegum without envisioning blowing huge bubbles....
until they burst all over your face.
So I began my hunt for bubblegum pink fabric with bubbles... and here is what I found:
Fleece that is soft,
warm, and just right for a little girl that likes to wear dresses in our cold Northern Illinois winters.
Remember

twirling

the end of your blown bubblegum bubble to save them?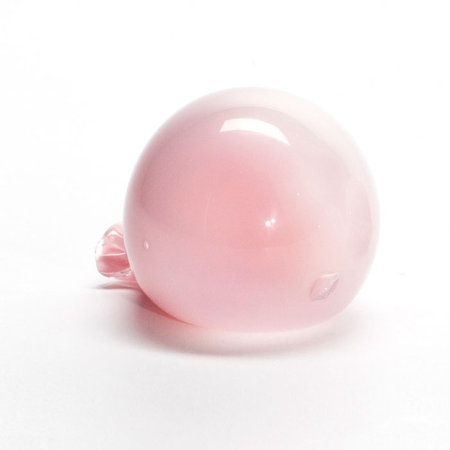 Well Miss C loves

twirling

in her new bubblegum dress.
This jumper features a twirly, swirly skirt.
Though I love the soft bubblegum color of the fabric, I provided some contrast to the design when I chose to use a soft grey shade as a contrast.
The first contrast comes from the blanket stitched edges around the neck edge and built in belt. The grey long sleeved t-shirt is made from a soft organic cotton knit fabric...so soft. I found that the construction went quite quickly. I even reread an old Stretch and Sew book from years ago to calculate the length of the
self-ribbing at the neck edge.

Miss C holding her bubblegum roll, and showing off some of her ballet moves.
Fleece does not ravel; therefore, there is no need for a seam finish or edge finish. I decided to use my sewing machine blanket stitch to quickly sew the bodice and facing together in one quick step. Sew and trim... that's all there is to it!
To highlight the lower waist, I added a grey belt dotted with pink mini-dot and darker grey buttons. The belt is topstitched with a machine blanket stitch too.
The hat is the final touch to the perfect bubblegum inspired creation.
I created the hat by searching on the internet for some basic instructions, and then just having a go at it! I found that I needed to add some elastic inside the band since fleece doesn't have any stretch. Miss C told me that she really likes the hat because it makes her feel "fancy."
...And that my friends is my candy inspired outfit.