Wild Animal Acts = Circus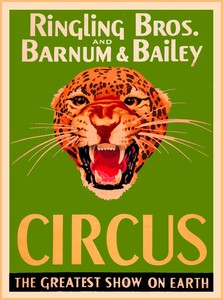 So, when I started planning my outfit for the Project Run and Play Circus Challenge, I wanted some wild cats!!!
BUT...I also had to make sure my outfit would please a very particular pre-teen. No cutesy animals prints for her.
So I would like to introduce...
Pattern on Pattern
2 Different Size Prints in Black and White
Hombre Yellow to Orange
Black and White With a Spot of Orange
Hoodie Outside and Inside
Stripe Runs in 2 Directions
It's All in the Details
At the bottom of the shirt front, I added a bit of whimsy with this fake drawstring complete with metal
grommets.
A well executed drawstring can look effortless, cool, and casual.
How I Created That Detail
At the bottom of the shirt, I attached a 1 3/4 inch band of striped fabric that had been serged on one side. I used a 1/2 inch seam.
You can see the 4 grommets that had been inserted into the bottom of the shirt previously. I ran my black and white twill tape through the grommets to create an "X" and then zig-zagged the tape into the 1/2 inch seam allowance. Then, I cut off the excess twill tape.
Lastly, I folded under the edging to the backside of the shirt and sewed it down by stitching in the ditch. This created a finished 5/8 inch band all around the bottom of the shirt. This band also encased the ends of the twill tape.